"How do I start my nutrition business after I graduate?"


This is one of the most frequent questions I hear from nutrition graduates over and over! You have your newly minted certification in hand and you're ready to start seeing clients, but you have no idea where to start. I feel you!

Right now you might be feeling like:

· What are the next steps that I need to take to start my business? I don't have any idea!
· How much information do I give to my clients?
· Do I need to have a website and social media accounts?
· What are the legal things I need to do to set up my business?
· Everything feels so overwhelming!
Sound familiar?

If you're anything like I was when I first started my nutrition business, you're probably feeling pretty stuck right now and don't know what steps you need to take to get things moving. You wish someone would give you step-by-step guidance on what needs to get done, so that you can start checking things off your list and finally start seeing clients.
You desire simplicity around the whole process so that you don't give up before you've even started. I totally get this and wish I had these resources too!

Introducing the Nutrition Business Building Program!

Your all-in-one program to take you from feeling overwhelmed and confused (with no idea where to start) to feeling completely confident and ready to make some big steps in your new business.
Through multiple training modules, coaching videos and workbooks, I'll be teaching you the same techniques that I used in my own nutrition business to get all of my essentials set up, clarify my business vision, start attracting clients, and start coaching clients confidently!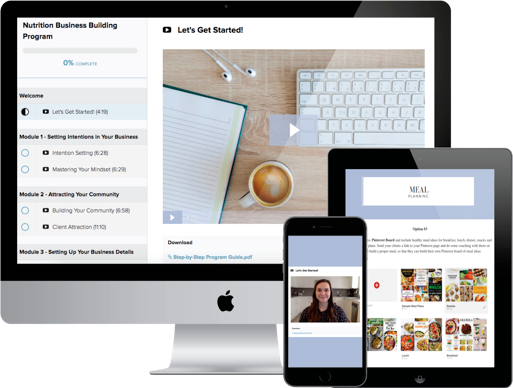 This program is jam-packed with hands-on training to help you kick start your nutrition business right away!


What You'll Create
Business Details
Get Your Business Name, Insurance and Other Providers Set-Up
Client On-Boarding Process
Create a Welcome Email, Set-Up Booking & Payment Services and Get Your Offerings Set-Up
Business Clarity and Vision
Understand Your Audience and Their Needs
Client Session Confidence
Create Client Health Plans and Learn How to Effectively Coach Your Clients
Customizable Forms
Get Ready-to-Use and Customizable Client Intake Forms, Client Contract, Welcome Email and Client Invoices
Workshop Offerings
Create an Outline for Your First Workshop


What You'll Get

Step-by-Step Guidance
100% Online Training Portal - Move at Your Own Pace!
Over 25 Coaching Videos
More than 30 Downloadable Workbooks, Handouts and Guides
Customizable Templates for Your Business
Real Life Examples of Client Health Plans, Handouts
Private Facebook Community Support
BONUS: Q & A Videos with Industry Experts