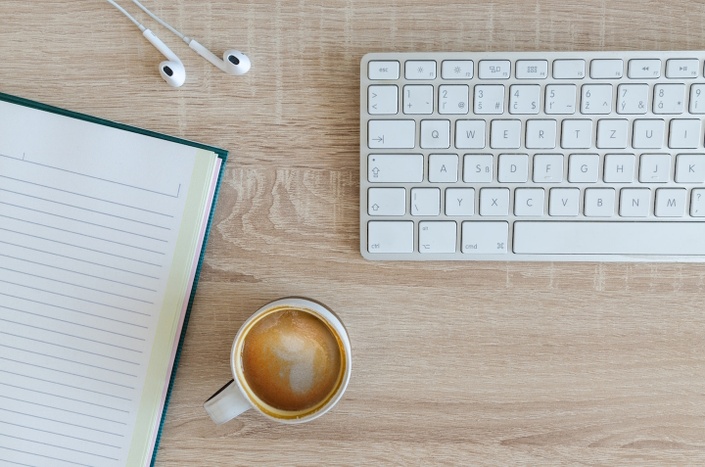 Nutrition Business Building Program
Enrollment Currently Unavailable
"How do I start my nutrition business after I graduate?"


This is one of the most frequent questions I hear from nutrition graduates over and over! You have your newly minted certification in hand and you're ready to start seeing clients, but you have no idea where to start. I feel you!

Right now you might be feeling like:

· What are the next steps that I need to take to start my business? I don't have any idea!
· How much information do I give to my clients?
· Do I need to have a website and social media accounts?
· What are the legal things I need to do to set up my business?
· Everything feels so overwhelming!
Sound familiar?

If you're anything like I was when I first started my nutrition business, you're probably feeling pretty stuck right now and don't know what steps you need to take to get things moving. You wish someone would give you step-by-step guidance on what needs to get done, so that you can start checking things off your list and finally start seeing clients.
You desire simplicity around the whole process so that you don't give up before you've even started. I totally get this and wish I had these resources too!

Introducing the Nutrition Business Building Program!

Your all-in-one program to take you from feeling overwhelmed and confused (with no idea where to start) to feeling completely confident and ready to make some big steps in your new business.
Through multiple training modules, coaching videos and workbooks, I'll be teaching you the same techniques that I used in my own nutrition business to get all of my essentials set up, clarify my business vision, start attracting clients, and start coaching clients confidently!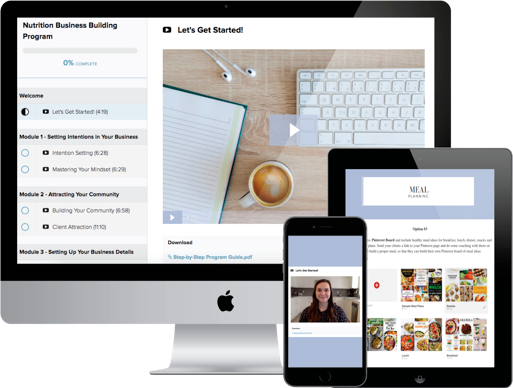 This program is jam-packed with hands-on training to help you kick start your nutrition business right away!


What You'll Create
Business Details
Get Your Business Name, Insurance and Other Providers Set-Up
Client On-Boarding Process
Create a Welcome Email, Set-Up Booking & Payment Services and Get Your Offerings Set-Up
Business Clarity and Vision
Understand Your Audience and Their Needs
Client Session Confidence
Create Client Health Plans and Learn How to Effectively Coach Your Clients
Customizable Forms
Get Ready-to-Use and Customizable Client Intake Forms, Client Contract, Welcome Email and Client Invoices
Workshop Offerings
Create an Outline for Your First Workshop


What You'll Get

Step-by-Step Guidance
100% Online Training Portal - Move at Your Own Pace!
Over 25 Coaching Videos
More than 30 Downloadable Workbooks, Handouts and Guides
Customizable Templates for Your Business
Real Life Examples of Client Health Plans, Handouts
Private Facebook Community Support
BONUS: Q & A Videos with Industry Experts
Your Instructor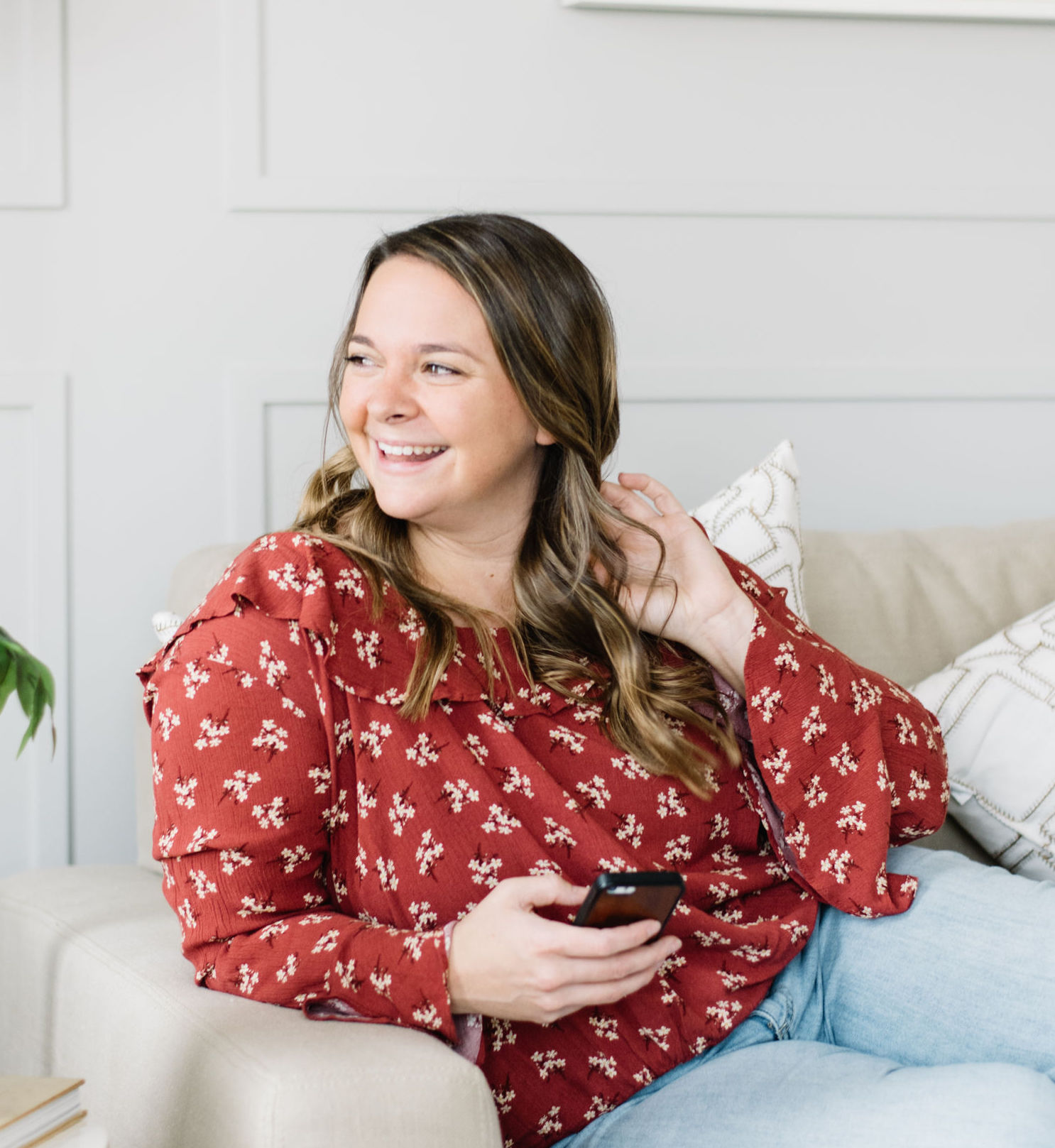 Hey there, I'm Stephanie! I'm a graduate of the Canadian School of Natural Nutrition and received additional culinary training from the Academy of Culinary Nutrition. After building my own successful nutrition business and learning a rock-solid process for how to work with clients, I knew that I needed to share this with others who were just starting up their own nutrition business.

I've mentored hundreds of nutrition students and new grads on the start-up details of how to begin and grow their business, and can't wait to share these tools with you, too!
Course Curriculum
Welcome
Available in days
days after you enroll
Module 1 - Setting Intentions in Your Business
Available in days
days after you enroll
Module 2 - Attracting Your Community
Available in days
days after you enroll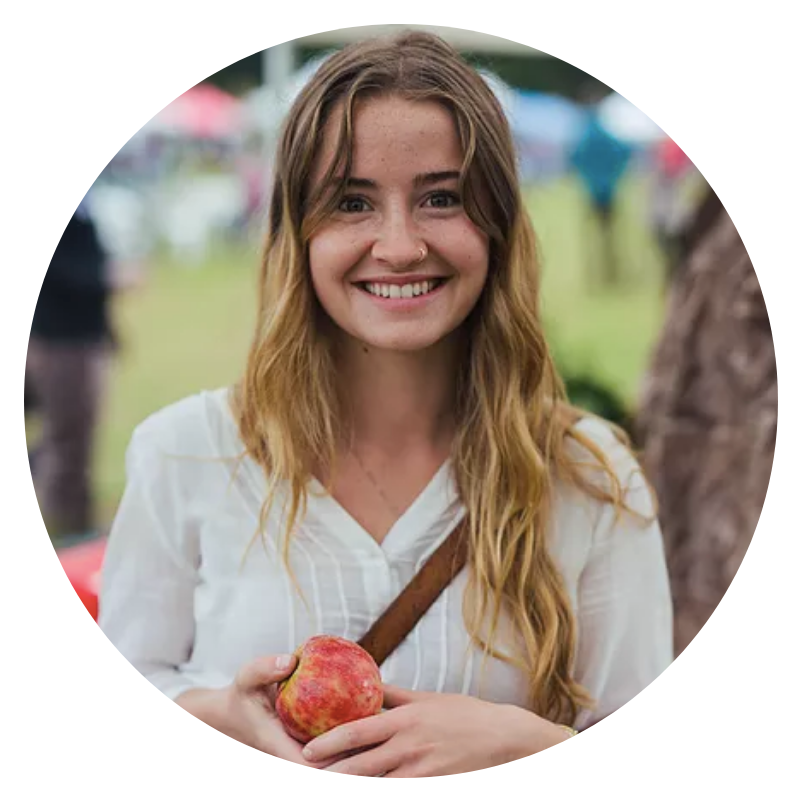 "This program has made me feel entirely supported, encouraged and capable of beginning my business as a Holistic Nutritionist. It is a great tool for new graduates or those struggling to get themselves going. It has been well worth the investment for me and I have no doubt that it would be for you as well." - Madison A., Registered Holistic Nutritionist
MODULE 1
Intention Setting - Understand your "big why" and what is driving you in starting your own business and learn how to identify and use your own unique skills to boost your business
Mastering Your Mindset - Learn how to identify and overcome any mindset obstacles or self-sabotaging behaviour that may surface during your business start-up phase

MODULE 2

Building Your Community - Explore what type of audience you want to work with and get clear on who you want to be helping
Client Attraction - Learn how to attract your ideal audience and the steps for bringing in consistent clients

MODULE 3
Business Set-Up - Learn how to set up all of your business essentials
Business Name Registration - Learn how to choose your business name and legally register it
Home-Based Business License - Understand if you need a home-based business licence in order to run your business
Insurance - Learn how to obtain liability insurance so that you're covered in case of emergency
Website Domain - Learn the basics of how to set up your website domain address
Email - Get clear on how to create a professional email
Newsletter Provider - Understand why you need a newsletter provider and learn the basics of how to set one up
Where to Work - Learn about different options for locations to run your business (including low cost and free options!)

MODULE 4
Client Intake Forms - Learn which intake forms to use with your clients and what additional Q's you'll want to add into your forms
Client Contract - Learn why implementing a contract is the #1 thing you should do in your business and learn how to create one
Welcome Email - Learn how to on-board a client with a welcome email
Invoicing & Expenses - Create a process for charging your clients and keeping track of your expenses

MODULE 5
Building Your Offerings - Learn how to create your client programs & packages and the basic outline for creating your pricing
Client Health Plans - Learn how to create a client health plan and see examples of real client health plans
Coaching Your Client - Learn techniques for coaching your clients with confidence, including what questions to ask and how to keep your clients motivated so they see results
Handouts - Understand how to create a useful handout for your clients with examples of real client handouts
Meal Planning - Learn about different options for creating your client's meal plans with ease

MODULE 6
Marketing Basics - Learn what needs to be included on your website, a step-by-step guide in setting up your first newsletter email, and tips on setting up your social media
Other Profitable Opportunities - Discover other ways to create profit in your business and bring in more clientele
Business Resources - Learn how to grow your business with other resources, training programs and book recommendations
BONUS: Q & A Videos with Industry Experts - Healthful Pursuit & Nutrition In The Kitch

BONUS: MODULE 7
Building a Client Health Plan - Learn, step-by-step, how to break down a client health plan so that your clients will implement your recommendations
BONUS: MODULE 8
Workshops 101 - Learn how to bring profit into your business by delivering a workshop. Learn how to choose a workshop topic, set up your speaking points, create a handout and deliver your workshop offering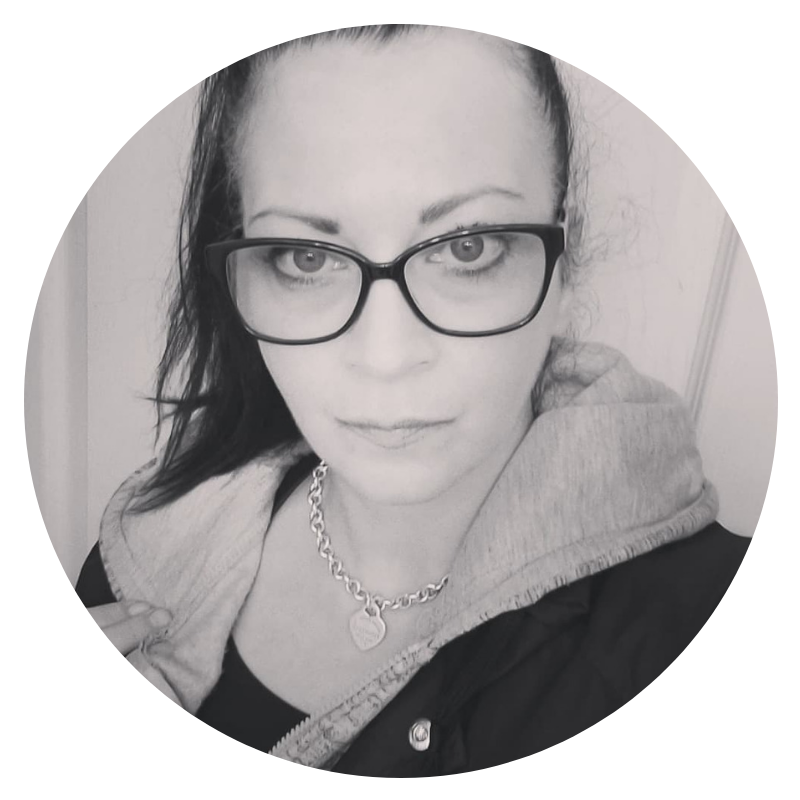 "This program is a must have learning experience with so much information covered throughout the program. All of my questions about my business have been answered as well. For someone just starting out, I was lost before the program and now I'm completely on track and booking clients with ease." - Flo F., Holistic Nutritionist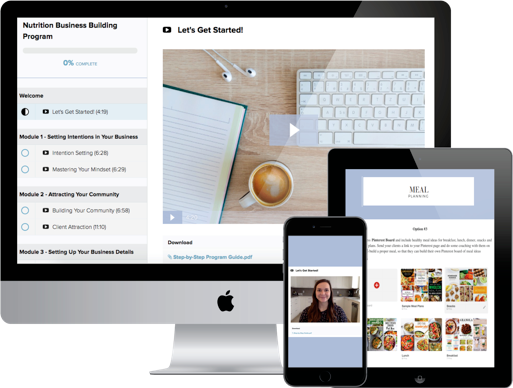 Frequently Asked Questions
Is there a refund policy?
As this is an online program and you receive all of the video and workbook content once you register, there will be no refunds issued.
Who is this program best suited for?
This program is suited for nutrition students finishing up their certification, new nutrition graduates, or those that have graduated awhile ago but have still been spinning their wheels on how to get their business started!
Is there any support provided while I am completing this program?
Yes! Once you enroll in the program, you will have access to a private Facebook group where you can ask questions and get support from others going through the program.
How long do I have access to the course?
Once you enroll in the Nutrition Business Building Program, you'll have access for the course's lifetime. Any updates and additions will be reflected in the course, so you'll receive free, ongoing access to the latest and greatest version.
When does the course start and finish?
You have access to all of the course material as soon as you sign up! It is a completely self-paced program, so you decide when you start and when you finish. I recommend taking between 6-8 weeks to complete the program.